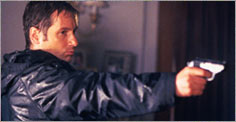 A new picture from "The Gift"! Find out more on EPISODE REVIEWS.





Hi, and welcome to Haven for the X-phile! Here you will find news on the X-files, information about the upcoming episodes, Pictures, links and many more. :) Remember to sign my guest book!
Enjoy!

View My Guestbook
Sign My Guestbook

NEWS!!
I have found a sound file on a commercial on This is not happening! To hear it go to Spoilers. Also there is information on a upcoming episode, probably after Deadalive called "The dream whose sleep." To see it also go to spoilers.





News!!!
I have found a commercial for "Deadalive"!!!! To see it, go to spoilers. Also I found an article on The lone gunmen and future x-files. To read the article, go to News and gossip.